A silver lining
I was introduced to this woman's art recently while in Sweden. She makes fantastic, imaginative jewelry, chandeliers, and other wearable art inspired by Dalarna's traditional folk art. For those of you who've read my blog before you know I have a weakness for kurbits (see
here
for a taste) and Swedish folk art from the 1800's. Karin Ferner (see
http://karinferner.se/
) taps into that tradition and makes it come alive. I especially like her jewelry with textiles like these: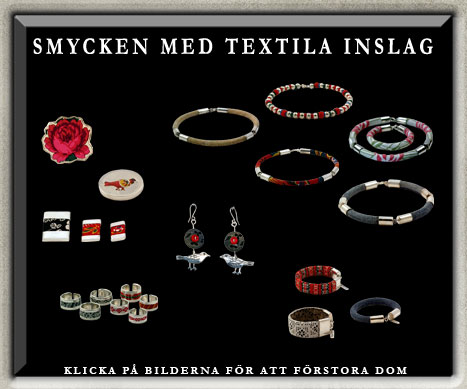 From Karin Ferner's website
On a personal note, I just got back from a wedding in Ohio where I was introduced to the antique trove
Heart of Ohio
, 116,000 square feet of antiques where things like this can be found as well as great furniture and other Americana and collectibles. Cool huh? Has anyone been? Let me know!
Love the wiener-mobile at the "Heart of Ohio" antique store