Clogs!
Every Clog Has its Day
Åsa Westlund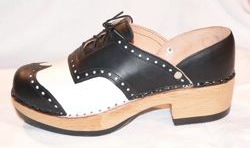 Multnomah Leather
Wow! I love clogs but these ladies take the cake. So sad to hear that the blogger at "Every Clog Has its Day" is laying down her typepad and moving on, (see
Every Clog Has Its Day
). I guess that they don't have room for any more clogs!
Swedish Hasbeens
I am going to buy some soon though. My mother bought a pair of super cool high heel clogs that I love for a little "slant" (amount) in Malmö, plus I am jonesing for a pair of boots to wear this winter, and of course the painted clogs are to die for. Maybe another cute little pair for Special K?
Decisions, decisions. Well as she so aptly said "Every clog has its day" so maybe I need several. ;-) CLOGS!