Bathroom remodel dreaming
Nice looking bath picked up from Ricedesignblog via Pinterest (NOT our ugly little one)
Hubby and I are contemplating a bathroom re-do for our extremely small "master bath". If the Lilliputians had a "master bath" it would look like this one, with a super small tub, hardly any space to move around, and a toilet that defies you to get up because it's so low to the ground. Having no building skills whatsoever I figure the most DIY we'll get around to is pulling up the ugly vinyl flooring and possibly smashing the laminate vanity (I've always wanted to do that.)
So far our search has taken me to Lowe's, to internet sites like "Urban Outfitters" and craigslist. As you can obviously our budget is also "Lilliputian". But before reality sets in too hard, here's what I'm thinking. The tiles I like are really quite simple. They are from Lowe's and you can use any color grout you like to coordinate.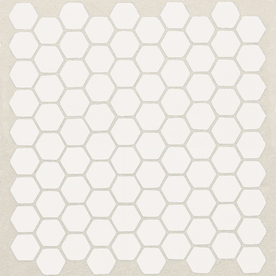 For the bathroom vanity we're thinking of this little piece which will give us more space to move around than our current one, also at Lowe's called "Emberlin".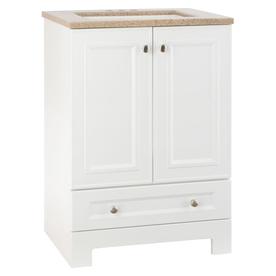 I'm also wondering what to do with ugly-*** mirror and big bulb lights that are straight out of the '70's. Hubby wants a medicine cabinet, but I'm thinking of using two bigger mirrored cabinets from IKEA for over the toilet. These are called "Lillången" and have nice shelves on the sides for even more storage.
So what to do with the mirror? Some people put a frame around it which I like, and there is also the possibility of adding driftwood or tile along the sides which could be cool. The ugly lights will be resolved somehow. I am kind of liking this concept, which just covers the lights like so: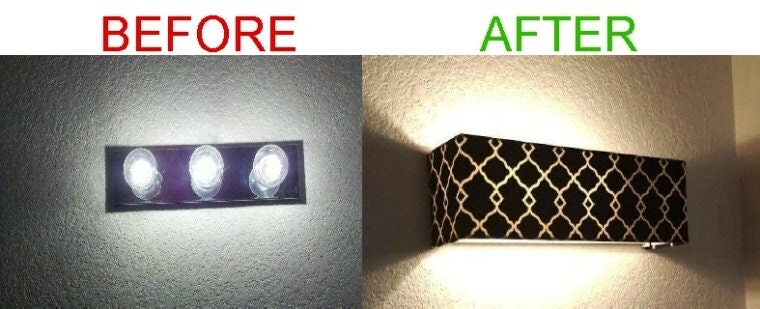 Cool huh? Check it out on Etsy.com at Vanity Shades of Vegas.
One last thing, if you like the farmhouse look you might like the
Hemnes bathroom line
, NOW on sale at IKEA, until 3/31/15!