Icelandic Horses
Horseback riding is big in Sweden and other Scandinavian countries. The Icelandic ponies are very poular for children because of their smaller size and nice dispositions. I found this adorable picture of our little pricess on an Icelandic horse which was taken a couple of years ago. Isn't she cute?
The horse race is one of the purest in the world and they are stocky little souls.
Click on the video from Kentucky Life if I've piqued your interest to learn more about these lovely animals..
I'd love to head over to Iceland to meet some of these beautiful horses and go for a ride through the countryside. There's even a horse park in Iceland called
Fákasel Horse Park,
located about an hours drive from the Keflavik airport, where you can see a horse show every evening (see photo below) and meet the horses in their barn during the day.
Fakasel Horse Park photo
The horse above is doing the "tölt" - the fifth gait which only the Icelandic ponies do that is sometimes called the "running walk". The Vikings brought the horses with them with Iceland, and no other horse breeds are allowed on the island. I understand why they are very proud of their horses. Can't you imagine running over the lava fields on one of these little guys? I think the kids and I would like it. And even i
f you can't make it overseas there are places locally to try as well, like this one in Waitsfield, Vermont that looks nice, for example

(
http://www.icelandichorses.com/
)
or search for places closer to you.
Martha Stewart rode an Icelandic Horse and had this to say about them; "
At first glance, these small, compact creatures look adorable and pony-like. However, in addition to being adorable, Icelandic horses are very strong, very spirited, and very fast!" Sounds fun!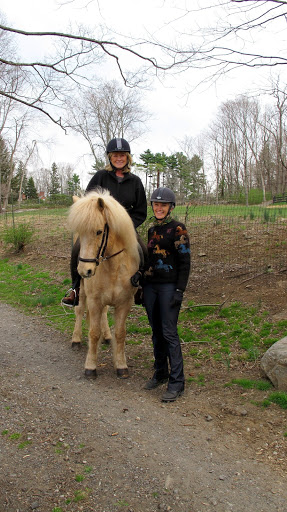 http://www.themarthablog.com/2012/03/i-rode-an-icelandic-horse.html