Looking to find your inner Swede? Sharing a casting search post:
Looking to find your Swedish roots? This is for real people: read on! I've seen the show and it's a lot of fun. Good luck!
Hi! My name is Denise Karlström and I am working with casting in Sweden, at a production company call Meter Television. Meter is known for TV- programs such as "The Biggest loser", "Masterchef" and the NBC hit Min it to win it. We are now conduction a nationwide casting for season 5 of the nominated TV series, "ALLT FÖR SVERIGE" (The previous working title of the show was Great Swedish adventure). We are looking
for outgoing, fun and adventurous people in different ages for next season. They have to be Americans of Swedish descent and never have visited Sweden or any of the other Scandinavian countries before.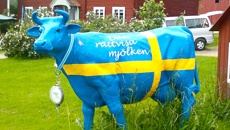 Some Swedes settled down in your state when they immigrated back in the days. Therefore we would like to ask you if you know anyone with a little bit of Swedish blood that want to find out about their heritage?! We would be super happy and really appreciate your help if you could pass this information on or put it up on your webpage. Our deadline to apply is Feb 11 2015. The show will be shooting in the summer 2015. To apply for our show you have to go on www.greatswedishadventure.com
Thank you so much for reading this and for your help! Best regards, Denise