Swedish Gustavian Design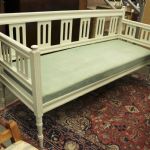 Hello Swedes and fellow Scandinavian design enthusiasts, today I want to try to give you an overview of traditional Swedish design and by this I mean setting the way back machine to the 1800's and before. We all are familiar with the modern Scandinavian style which was so popular in the 1960's and still has many enthusiasts today. While that's all very good and lovely, especially for the hipsters, by heart beats faster for the Gustavian era which was influenced by the French style It's basically a "bastardization" of French Rococco which makes it so charming and country and earnest in its approach. Here are some lovely pieces that exemplify this style:
Tina's XMAS present
:-) I especially like the two green clad chairs from the 1900's which are currently going for only 500 Swedish krones and is 700 krones less than the auctioner's estimate. 500 krones is about $69. Can you believe it?
So if you are in the market for some beautiful chairs (and own a container) this would be a good time to snatch some up! At any rate back to our lesson, see how curly and round the shapes are? This again is reminiscent of the French style that the Swedes, and in particular King Gustav III loved to emulate. Read more here if you wish for some history on this beautiful style and the background behind it.
http://en.wikipedia.org/wiki/Swedish_art
And for those of you hungry for more there's a you-tube video with additional information above.
Alexander Roslin's portrait of Gustaf III, 1777